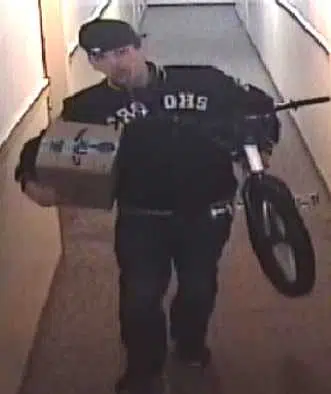 If you're expecting a parcel—make sure you take measures to ensure you actually get it. Edmonton police say parcel thieves are becoming a serious problem in the city–with 17 parcel thefts just since the beginning of November. And they're getting pretty bold—with reports of suspects allegedly following delivery trucks—before taking off with parcels once they've been dropped off on the porch.  And its right across the city.
So if you're expecting something—-do your best to have someone home when the parcel is expected. (You can use the delivery tracking app to get a good idea of when the item is supposed to show up.) Another option is to work something out with your neighbours so that they're able to accept it for you until you get home.  In the meantime–Police have released the surveillance photo of one porch pirate who was seen stealing a parcel and a bike November 19th.
Anyone who may have information about the suspect captured in the image– and/or any of the other parcel thefts across the city is encouraged to call the Edmonton Police Service Complaint Line at 780-423-4567 or the Edmonton Crime Stoppers at 1-800-222-8477 or submit your tip online at
www.tipsubmit.com/start.htm
.