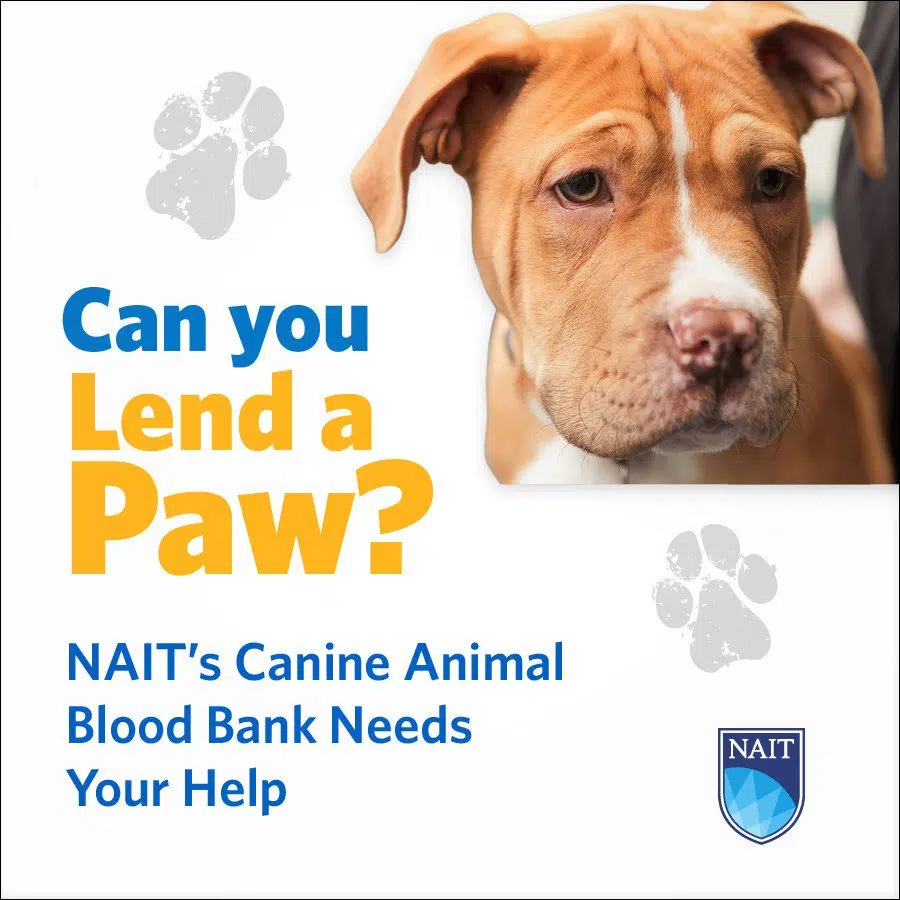 -NAIT has a crowdfunding campaign right now—as they hope to expand their "Dog Donor Blood Clinic."    Its the only monthly blood-donor clinic for dogs in western Canada.   Elaine Degrandpre is NAIT's veterinary medical-officer–and says the units are sent to the Canadian Animal Blood Bank–in Winnipeg:
"Its processed there–and its sent throughout Canada. Most vet clinics–even regular practice clinics–will require blood at some point in time."
Each unit of blood can help 2 or 3 dogs who need it–and the blood bank has been in place for more than 10 years already.
There are some requirements if you think you might like your dog to be part of this life saving group:
How to donate
In order to donate, your dog must meet the CABB requirements below and have the Canadian Animal Blood Bank Donor Registration Form (pdf) completed by your veterinarian. Dogs can be donors if they are:
healthy and even-tempered
weigh 50 lbs (23 kg) or more, but are not obese
between 1–8 years of age
have current vaccinations
spayed or neutered (preferred)
on heartworm prevention (recommended)
Dogs accepted into the program are asked to donate every 3 months.
Blood donor clinics are held at NAIT one evening a week, with the day varying to meet dog owners' schedules. Contact the clinic (see sidebar on the right side of this page) to book an appointment.
 If you'd like to help expand the program with a monetary donation: