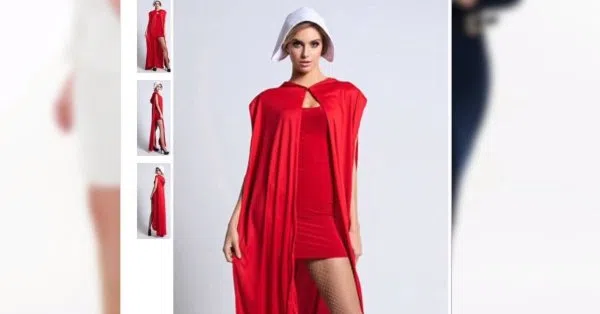 For the past few Halloweens—–it seems people have gotten upset by politically incorrect costumes.
And this year's no different.
This time—its the "Sexy Handmaid's Tale"   outfit…..
The company behind it is calling it the "Brave Red Maiden" —-but its obviously a take on the red outfits worn by the central characters in the tv show and book called "The Handmaid's Tale."
In that story–women are treated as property—and the handmaids forced to wear long red outfits with white hoods—-while being forced to obey their rules.
In the case of the Halloween costume—the outfit—features a mini-skirt.
The company behind the costume claims it thought it empowered women——but judging by the comments on social media–no one was buying that.
And they literally wont be buying the outfit either.