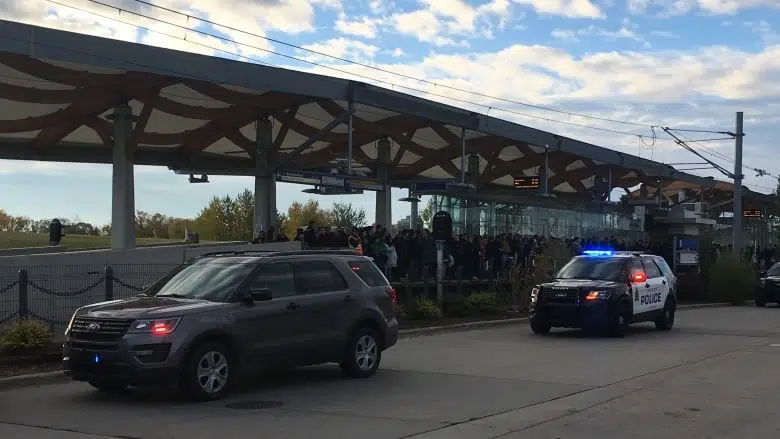 UPDATE:  Police report this afternoon, they've arrested a 24 year old man in connection with the stabbing this morning at the South-Campus LRT station.  The condition of the man attacked is still unknown.
It still isnt known why it happened—but a 20-year old man is in the hospital—after he was stabbed in the chest a couple of times this morning–while waiting for the LRT.
Happened at the South-Campus Station just before 8—and police are still looking for the guy who attacked him.
There were a lot of other people on the platform when it happened—and some of them did as much as they could to help the victim.
There was even a doctor and nurses waiting for the train–so they were able to help til paramedics got there with the right equipment.
The extent of the man's wounds isnt known—-but he was conscious when he was taken to the hospital.
Police are still on site investigating—so it may be some time before things are back to normal .
Transit users are being asked to take bus replacement service–between Southgate and University.
**********************************************************************************************************************************************
Few more details on that incident at the South Campus LRT station this morning.
Edmonton police say one of the passengers was stabbed while he was waiting for a train.
The 20-year old man has been taken to the hospital—but we dont know how badly he was wounded.
The suspect ran off—and police are still looking for him.
No word at this point as to WHY this happened—but  no trains are stopping at the South Campus LRT—-and buses have been brought in to help stranded passengers….
This may have things tied up for some time—but we'll keep you posted.  (photo credit–Rick Bremness/CBC)