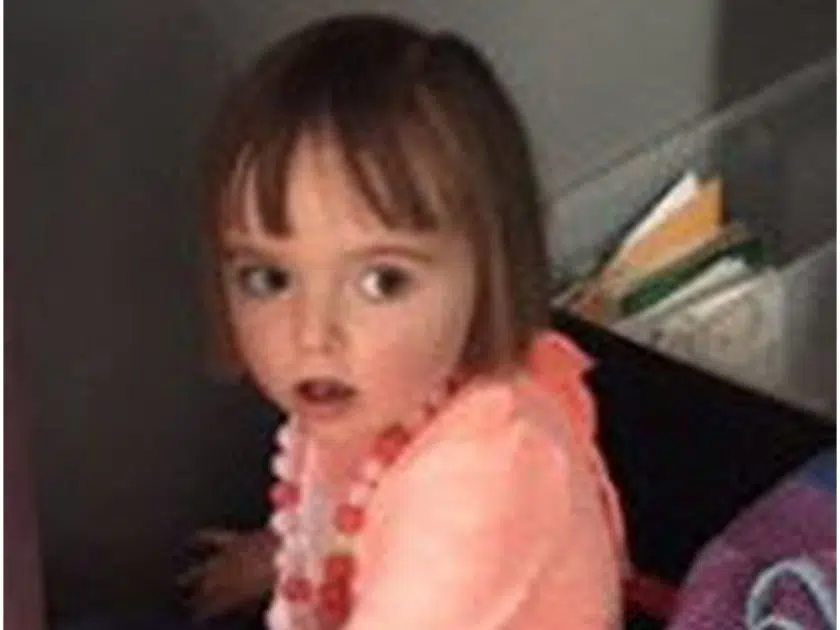 We've got a few more details on the discovery of the little girl who was the subject of that recent Amber Alert.
RCMP say some workers at a remote industrial site in North Battleford—-found the SUV everyone was looking for—parked off road in some bushes around 6:45 this morning…
And when they looked inside—6-year old Emma O'Keeffe was awake.
She was taken to the hospital and given the medication she needs for epilepsy—-and she's now back at home with her family.
Looks like she's going to be okay…
She had been strapped into her carseat in the back of her family's SUV—when it was stolen from outside a strip mall in North Battleford last night.
Her mother had run into one of the businesses–and when she came back out—-the vehicle and her daughter were gone.
Police are now examining the vehicle—but for now—–dont have any suspects.  
******************************************************************************************************************************
UPDATE:
BREAKING: RCMP say Emma O'Keeffe has been located safe within the City of North Battleford. She was found at approximately 6:45 a.m. and is being provided with medical attention at this time.
We are hoping RCMP will provide more details later this morning .
An Amber Alert that was issued  last evening for a 6 year old autistic girl continues.  Emma O'Keeffe is Caucasian, 3-feet, 6 inches tall and weighs 44 pounds.  She has brown, jaw length hair—and was last seen wearing a navy blue long-sleeve t-shirt, black jeans, pink socks and a diaper.  She was not wearing shoes.  Emma has epilepsy and autism, cant speak or walk.   She was in a car seat in the back of her family's vehicle when it was stolen outside a strip mall in North Battleford.
That vehicle is a dark grey Mercedes SUV with Saskatchewan plate number 897 HMX.
The SUV had been parked outside the strip mall and it was running when it was taken.
Her mother–Allison posted a call for help on Facebook:
"Please keep looking, search your properties, yards and outbuildings, even by foot. "She would not know to seek help and will not respond to her name being called. She won't even know to walk along the side of the road. We need all the help we can get with her special needs, it makes it even more difficult. Please please get her home."
MOTHER:  "If you can find Emma or you have spotted her… call 911 immediately. Her health is at risk. She needs medications immediately in order to help prevent severe seizures. We just want her home. So please bring her back,or just call someone and let us know where she is."
FATHER:  "We know you didn't try to abduct her. We know. We know. We just need her back."
Emma DOES need medication–and her family says it has to be taken at very specific times–every 12 hours.    Missing a dose–could lead to "extreme medical distress."
If you have information about this child, call 911 or 1-877-SOAMBER or 1-877-762-6237 or e-mail fdiv_amber_alert@rcmp-grc.gc.ca ^km