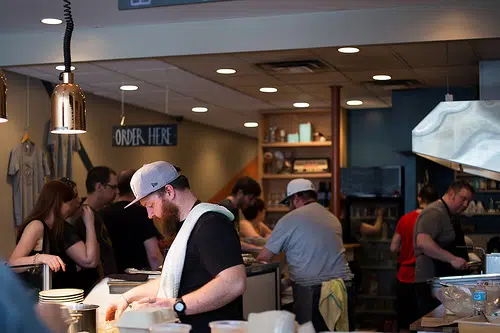 UPDATE :
We're now  getting word on heat records from yesterday.
Some of the smoke had lifted—and it was pretty cooky as a result.
Edmonton DID set a record of 34.5 degrees—beating the old one of 34.4 set back in 1932.
Drumheller was the hot spot in the province–at 37.2.   The old record was 35–set in 1940.
Hot and smoky again today…..and then it finally cools off tomorrow.
************************************************************************************************************************************************
-You know its hot when restaurants take some items off their menu so they don't have to turn on their convection oven. More than 34 in the city of Edmonton this week–but it cranked up the heat in the kitchen at Northern Chicken to 41—and that was way too hot to be safe for the employees. So co-owner Matt Phillips said they decided to keep the oven off—–and they just took anything that's made in the oven—-off the menu until things cool down again. Today is supposed to be hot again—with a humidex of 37. But Environment Canada says it'll cool down tomorrow.  (photo credit–Only Here For The Food)