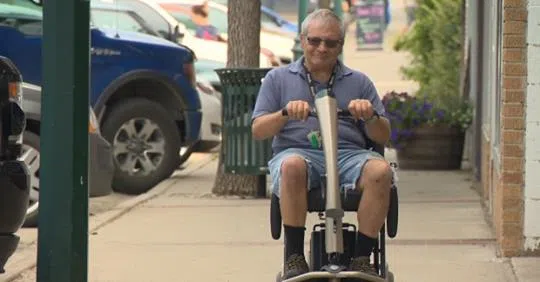 How about a  big shout out to Penny Wyton and the people of Barrhead?
Penny works at Fyfe's Pharmacy–and she  told CTV she wanted to buy a mobility scooter for a man named Rick—after noticing that he was having a tougher time getting around town:
"Anyone who sees Rick around town can see clearly that every single step is a struggle.  His mom is actually in acute care up there–so from what I can tell—he's actually making the trek to go see his mom.   And he's been struggling like this for years.  Its just time for it to end."
She got other people to donate to the cause—and when Rick came into the Tim Hortons at  Fyfe's Pharmacy this past Monday—they presented him with his new scooter.
He's incredibly grateful—and glad he doesnt have to walk all over the place anymore.
By the way–they had enough money left–that they were able to get Rick a basket and spare battery for the scooter as well.  (photo credit-CTV/Amanda Anderson)