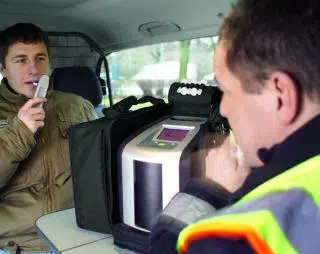 The feds have given the green light to Canada's first roadside saliva test.
Once they've got them—officers will be able to swab a driver's mouth—to see whether or not the person is under the influence of pot.
The "Draeger DrugTest 5000" is already used in Germany and the UK—and can also test for cocaine.
If you test positive for pot or coke—-police can haul you in for a blood test.
Pot becomes legal in Canada–October 17th–but it still isnt known if police are going to have the tests by that point or not.  (photo credit–leasing.com)