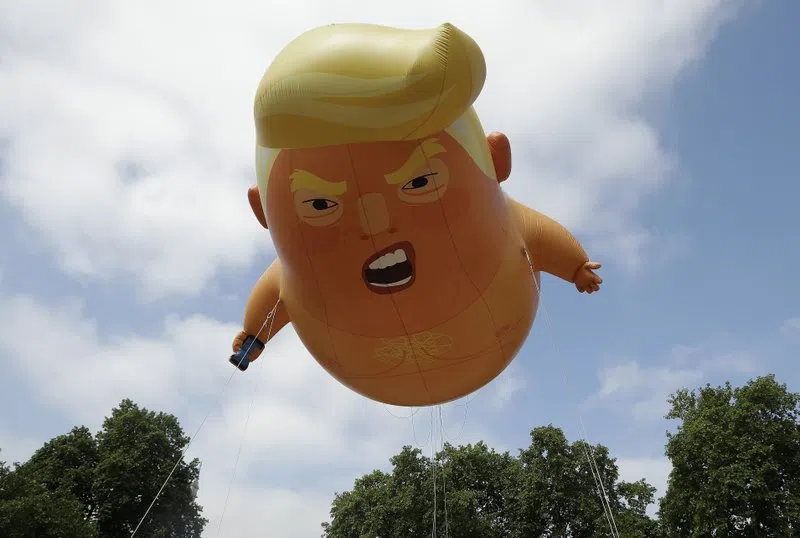 UPDATE:
The American Justice Department  has charged 12 Russian intelligence officers—for hacking offences during the presidential election in 2016.
Its part of the ongoing special counsel probe—-into potential co-ordination between the Donald Trump campaign and Russia.
The Russians have been accused to hacking into Hillary Clinton's—and the Democrats' computer network.
In the meantime—Trump has been criticized for not saying much about this whole matter—except that he believes Russian President Vladimir Putin's claim that he had nothing to do with the election.
He's supposed to meet with Putin next week.
–TODAY:
As thousands of Brits parade through the streets of London to protest Donald Trump being in their country—–the U-S President and his wife are having tea with the Queen.
But even though  they're having tea—–they arent getting a state dinner or other honours that she's granted to previous presidents….
Earlier today—Trump apologized to Prime Minister Theresa May for comments he made to the Sun newspaper yesterday.
During an interview–he criticized her for her plan to leave the EU—-and then said her rival—Boris Johnson—would be a better leader.
Today—he denied that–and then went a little further:
"I would give our relationship with the UK–and especially NOW–with your Prime Minister—I would say the highest level of special."
 **********************************************************************************************************************************************************************************************
Over in the U-K—-protests are planned in about 50 cities—because Donald Trump's in the country.   Groups have actually come out with a 20-foot balloon that depicts Trump as a screaming orange baby–with a cellphone for tweeting.  They say you might not be able to reason with him—but you can ridicule him.   (photo credit–AP)