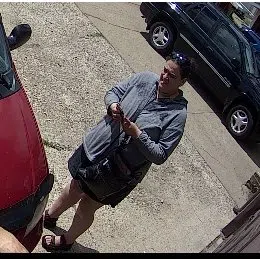 Edmonton police have released a photo of a woman who allegedly took off with a van she had been test-driving.
This happened on July 3rd—after she answered a Kijiji ad that the van was for sale….
She met the owner around 142nd Avenue and 59th Street—and the owner went with her while she drove it around a bit.
But when the owner got out of the passenger side AFTER the ride–the woman hit the gas and took off.
No sign of her since.
If you have any information on this or any other crime, please contact the Edmonton Police Service Complaint Line at 780-423-4567 or the Edmonton Crime Stoppers at 1-800-222-8477 or submit your tip online.  (photo credit–EPS)