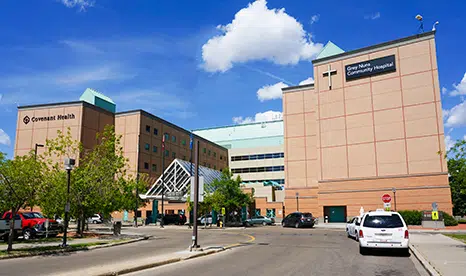 This isnt good.    Health officials have confirmed a case of Hepatitis-A in one of the people handling food in the cafeteria of the Grey Nuns Hospital.   Anyone who ate food in that cafeteria between February 26th and March 10th—and then March 13th to 18th may have been exposed.  This would also affect inpatients who had food in their rooms February 26th and 27th—-and March 1st, 3rd, 4th, 7th and 15th.    Medical Health Officers say the risk is low—but its a serious infection—-so if you DID have food or drink from that cafeteria on those dates—-watch for symptoms in both you and your family–for 50 days.  By the way–there's no ongoing risk in the cafeteria.
Illness can occur within 15 to 50 days after exposure to the virus, but usually does within 28 to 30 days. Individuals can be infectious one to two weeks before symptoms occur up to at least one week after the onset of illness.
Symptoms of hepatitis A may include: tiredness; poor appetite; nausea and vomiting; abdominal pain and fever; followed by dark-coloured urine, light-coloured stools, and yellowing of eyes and skin several days later. Some people, especially young children, may get hepatitis A infection without noticing any symptoms; however, they are still infectious to others.
Individuals who develop such symptoms between now and May 7, 2018, are advised to contact Health Link at 811 immediately.