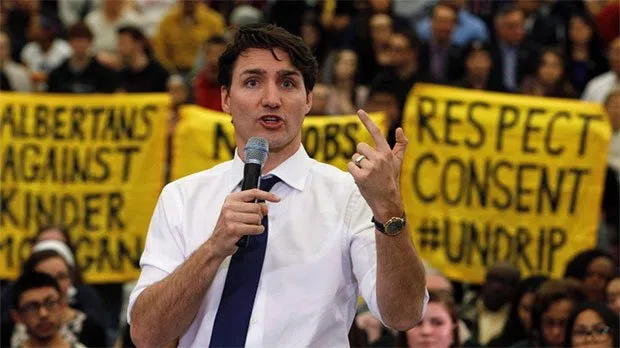 As expected—it wasnt some big "love in" at that townhall with the Prime Minister last night.
Questions to Justin Trudeau ranged from the legalization of pot, to pipelines and jobs—and helping veterans.
One veteran from Morinville was on hand…
He lost a leg to a roadside bomb in Afghanistan—-and wanted to know why the government is still fighting certain veterans groups in court:
TRUDEAU: "Because they're asking for more than we're able to afford right now. "
There was some angry yelling from the crowd at that point…..
TRUDEAU:  "Now hang on—you asked for honest answers.  The old veterans' charter involved lump sum payments and very little in the way of services.  We have significantly invested in services like rehabilitation, support, training, support for caregivers and families–that have gone a long ways towards improving the quality of life and outcomes for veterans—and we cannot return to the amount of money that was given before—without accounting for the money invested in services for veterans."
The Prime Minister was also asked about the payout to Omar Khadr—-which he admitted he's also frustrated about–but says it would have cost a lot more to continue with a court battle—-money that could be spent on other things.
And he says it came about—because Canada does NOT torture people—-and yet former Canadian governments allowed a Canadian citizen to be tortured.